Tiki & Tane Cabins ~ Fantasy Island Package
The Tiki Cabin & Tane Cabin - Fantasy Island holiday package includes:
Fully Flexible return flights from Auckland Airport or North Shore Airfield
3 days quality 4wd car rental
2 nights accommodation in either Tiki Cabin or Tane Cabin
The Cabins
Fantasy Island offers a unique and amazing Great Barrier Island holiday experience utilising one (or both) of their delightfully presented studio cabins. Both tastefully decorated options are privately positioned and feature stunning sea views across the harbour and beyond. The cabins are totally secluded in subtropical garden settings and are ideal for singles or couples looking for a unique island accommodation option.
Each cabin has it's own en suite, a mini bar, a small bar fridge to keep drinks cold and tea & coffee making facilities.
Breakfasts are available on-site most days for an extra charge (you'll find a menu in your cabin).
Several restaurants, bars, an Irish pub, shops & a cafe are within easy walking distance and cater for breakfast, lunch and dinner dining preferences.
The Space
Fantasy island is a retreat for adults only... sorry, no children.
Stunning panoramic views and gorgeous resort-like grounds offer the perfect escape for those seeking a break from the norm.
You'll find plenty of spaces to relax and soak up the views.
Guests are afforded privacy to enjoy the property but the hosts are nearby if needed.
Fantasy Island is a large property with plenty of space to spread out and relax undisturbed.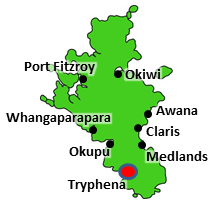 Your Flights
Your flights are Fully Flexible Premium Grade... totally protected and fully refundable or transferable up to 24 hrs before travel.
The scenic morning flight across the Hauraki Gulf takes a mere 35 minutes... leaving you plenty of time to explore the island before checking in to your cabin at 3.pm.
Your Rental Car
Your quality 4wd hire car is available for pick-up and drop-off at the Claris airfield.
We'll meet you on arrival and escort you to your car. It comes with unlimited kms and a full fuel tank that you'll re-fill at the end of the hire period.
Gallery: (click to enlarge...)
Activity Ideas
Great Barrier Island is famous for it's amazing night skies... in fact we're one of only four Dark Sky Sanctuaries in the world.
Our on island Dark Sky ambassadors are fully trained to guide you through the heavens.
Sundancer Sightseeing Tours provide an opportunity to see the Barrier from a whole different perspective.
Join them for the West Coast Cruise with On-board Lunch... You won't be disappointed !
Just give us a call to arrange your activities... Dark Sky Sanctuary Experiences, Island Tours, Track Transfers or Fishing Charters.
We can make the arrangements and add them to your package.
Tariff:
An all inclusive package just for two ~ in one cabin...
2 Fully Flexible return flights from Auckland Airport or North Shore Airfield
3 days quality 4wd car rental
2 nights accommodation at beautiful Tiki or Tane Cabin
$515 per person
An all inclusive package for 2 couples ~ in both cabins...
4 Fully Flexible return flights from Auckland Airport or North Shore Airfield
3 days quality 4wd car rental
2 nights accommodation at beautiful Tiki and Tane Cabins
$470 per person