Medlands Beach Villas and Backpackers are positioned on an elevated 10 acre block overlooking beautiful Medlands Beach (500 meters away).
Conveniently located five minutes from Claris airport and 10 minutes from Tryphena.
Medlands Beach Villas and Backpackers offer affordable, clean and functional accommodation with a friendly welcoming Great Barrier style.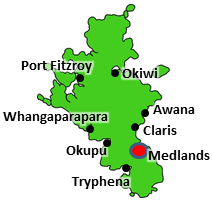 The Villas
There are 2 fully self contained holiday houses  with fantastic views of Medlands Beach and beyond.
Villa 1 has 2 double bedrooms... 1 has a double with a single above - bunk set.
Villa 2 has 3 bedrooms. Both villas sleep up to 5 guests.
Each house has a  gas stove, electric fridge, solar and gas hot water, fireplace, TV and a selection of books.
Lounges and dining rooms enjoy sunny views of the bay with ample parking for 2 cars at each house.
During the cooler months we will supply all the firewood you'll need to keep warm and cosy.
Gallery: (click to enlarge...)
Tariff:
From $300 for 2 guests (linen included)
The Backpackers
There are 3 Dorm rooms, sleeping 4 in each room. Two rooms have double beds and can be booked for sole use. There is also a separate double room with a small deck, all share a well equipped kitchen/lounge, with all facilities including hot showers, BBQ, books.
Boogie boards & flippers are also available for use.
Gallery: (click to enlarge...)
Tariff:
Dorm Room: $30 per night ($35 for 1st night)
Private Room: $70 per night
Chalet Double: $90 per night