Island Art ~ Barrier Style


Great Barrier Island has a long standing reputation as a haven for artists, writers, poets and musicians. The environment and life-style can't help but be a source of inspiration and nothing gets the creative juices flowing more readily than an 'up close and personal' relationship with Nature.
You'll discover some fantastic galleries and displays of authentic Barrier Art.
 The Artists and Galleries...
 Shoal Bay Pottery

Sarah Harrison is a hugely successful and renowned Great Barrier Island artist.
Although she is an accomplished and capable painter and multi-media artist Sarah's main creative outlet is expressed through her innate ability to mould and transform clay.
Working in the picturesque setting of Shoal Bay, Sarah creates ceramic sculpture, tiles and beautifully crafted domestic ware which is a pleasure to use. In her 20 years of potting she has developed quite a following.
Fired to stoneware temperature in either her gas or wood fired salt kiln, her work is constantly evolving which reflects her continual experimentation and desire to explore new territories.
It makes every kiln opening an exciting time of discovery.
Shoal Bay Pottery
is a great place to start your Island Art Discovery Trail and is easily found mere minutes from the Tryphena Wharf on Shoal Bay Road.
Visitors are welcome 7 days per week during the hours of daylight.
Contact - Email: pottysarah@hotmail.com Phone: 09 4290455

Jenz Jewels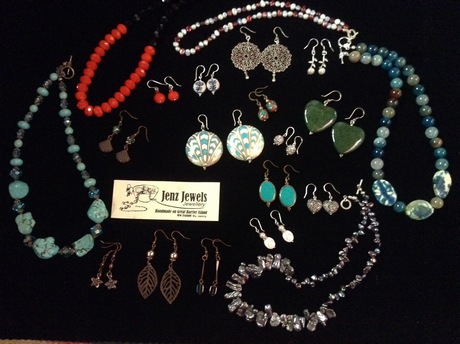 Jenny Napier has lived on Great Barrier Island for about 10 years now and has spent the last 5 of these, being absolutely absorbed in her art. Jen is the 1st to admit that finding unique & unusual beads, natural stones and pearls, both locally and during her regular sojourns overseas, has become an obsession. Her addiction though, is transforming these treasures into truly beautiful pieces of  jewellery.
You'll find stunning earrings, incredible bracelets & necklaces and there really is something for everyone...

A visit to Jenz Jewels at 106 Shoal Bay Road in Tryphena, is a must-do if you're following the Island Art Discovery Trail... Give her  call to arrange a visit time. Of course if it's a Saturday, you'll find Jen, her wares and her contemporaries at the Stonewall Village Market, Pah Beach Tryphena. Starts at 10am.
Every Piece a Perfect Island Memento. 
Contact - Email: rjnapier@xtra.co.nz Phone: 09 4290797
Toothless Quilter
 Our local Toothless Quilter has her colour filled studio at 25 Mulberry Grove Road... just up from the Mulberry Grove Store in Tryphena.
Ngaire Avery enjoys working with felt, silk, wool, objects that she finds and objects that find her.... in fact anything that takes her fancy.  
Be sure to visit this great little studio and check out the awesome art quilts and mixed media art-work produced by this fibre hoarding artist.
The studio is open Friday to Wednesday - 10am - 4pm
Contact – Email: ngaire_avery@hotmail.com  Phone: 4290 605
Black Cow Gallery
 Black Cow Gallery is situated in Schooner Bay. When you reach Schooner Bay, cross the bridge and drive up the steep concreted hill, you'll find the gallery under a huge Pohutukawa overlooking the beach. The Gallery is a woodworking workshop and art gallery for Fenella Christian and Peter Edmonds, other artists are invited to exhibit from time to time.


Opening hours are 10am to 4pm Monday to Friday and by appointment on weekends. 
This is a great place to buy gifts, from small wooden balls and bowls to quite large paintings and carvings.  You're welcome you to come and browse.
Contact - Email:  info@blackcowgallery.co.nz   Phone: 09-4290414
The Great Barrier Island Community Art Gallery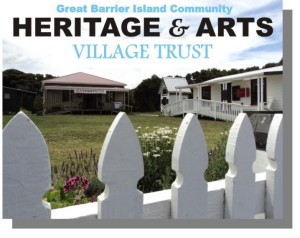 A fitting place to end your art discovery trail... you'll find our fantastic community art gallery at the Great Barrier Island Community Heritage and Arts Village - 80 Hector Sanderson Road, Claris.
Open daily 10am - 4pm during summer. 
Closed on Wednesdays & open 12 noon - 5pm during winter.
From photography to pottery, needlework to weaving, here you'll find the widest range of arts and crafts available on Great Barrier Island. There's always something happening at the gallery with a steady flow of members exhibitions and a refreshing display of themed works.
Contact - Email: gallery.manager@aotea.org Phone: 09 4290 580