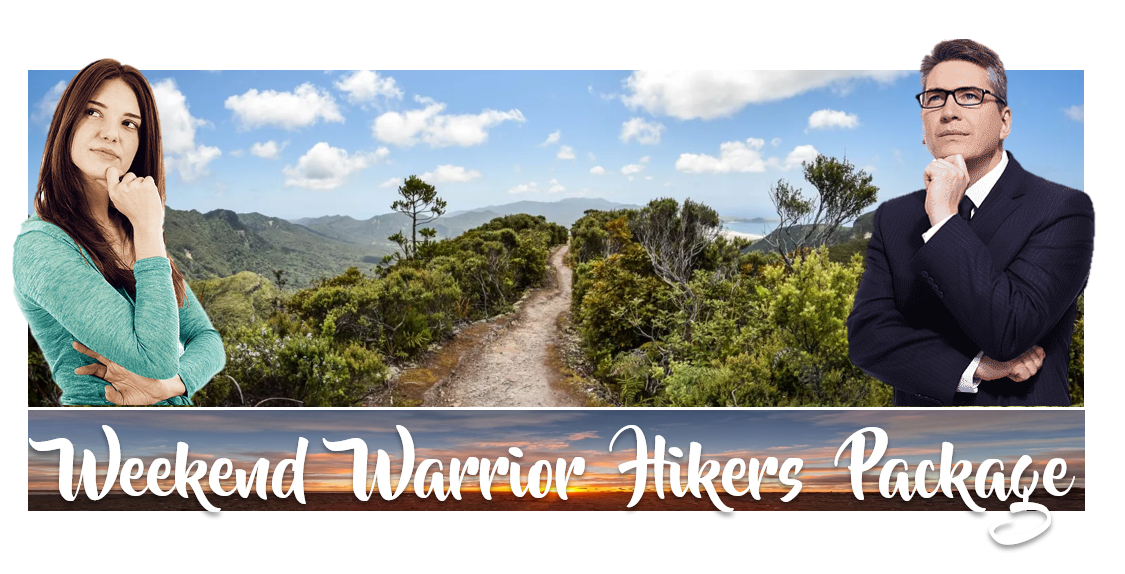 Are you ready to escape the hustle & bustle and get yourselves out into the elements?
This all inclusive hiking package has it all. You'll experience the most scenic 30 minute flight possible from Auckland with Barrier Air, explore the incredible Windy Canyon, and conquer the Barriers' highest peak, Hirakimata (Mt Hobson) at 621 metres. Follow that up with a night in the most elevated accommodation on the Barrier - the amazing Mt Heale Hut - and enjoy a nice soothing hot soak at the natural Kaitoke Hot Springs on your way back to 'civilisation.'
We'll throw in your on-island transfers, a hiking map and a flight back to Auckland.

What to expect:
To walk 12 km carrying your pack
Some fairly steep climbs
Lots of steps and stairways
Hot sun and high UV
Rain and colder temperatures
Possible slippery conditions
Spectacular panoramas
Stunning bush, mountain & stream views
What to bring:
A good pack suitable for carrying:
Clothing for hot, wet & cold weather
Food ~ cooking & eating utensils
First aid kit ~ sunscreen
Torch/batteries ~ light
Tramping boots
Sleeping bag
Drink bottle & camera
What's Included:
Return flights from Auckland Airport

Transfers to and from your hike

Hut fees (adult $25 - child $12.50)

Track map & info book
*What it costs
Adult solo - $465
Adult 2 or more - $425
Child (5 - 17) - $362
Infant - free
Enquire for groups of 8 or more
Mt Heale Hut
This new back country hut has 20 beds in two bunk rooms.
It also has two toilets, gas cooking  facilities, and a good water supply. You'll find two deck areas, where you can enjoy the excellent views of the Hauraki Gulf, Little Barrier Island (Hauturu) and the surrounding summit peaks of Great Barrier Island.
Kaitoke Hot Springs

Natural and totally undeveloped, the Kaitoke hot springs provide a great opportunity to take a break & soak those track weary muscles. Find a pool with a suitable temperature and relax... be careful though sometimes they can be pretty hot!
Remember - don't put your head underwater at natural hot springs.
Your Itinerary
Saturday morning you check-in at Auckland Airport Domestic Terminal by 9.15am.
Your flight departs at 10.00am and half an hour later we'll meet you on arrival at Claris  Airport. We'll give you a mini-tour up the beautiful east coast to the beginning of the Palmers Track. Check out the Windy Canyon, only 10 minutes from the start of the trail.
Allow a couple of hours to enjoy the hike to the summit of Hirakimata (Mt Hobson).
Your accommodation, Mt Heale Hut is located about 45 minutes further down the South Fork track.
Sunday morning after breakfast, follow the South Fork then the Peach Tree track down to the Tramline track. Eventually you'll come to a junction in a little clearing. Follow the sign to the Kaitoke hot springs. Take a well earned soak, maybe have some lunch and allow 40 minutes of easy level walking to reach the Whangaparapara Road and team up with your transfer driver at a pre-arranged time.
We'll get you back to Claris with time to explore the Community Arts & Heritage Village and the Milk, Honey & Grain Museum. Finish off with some afternoon tea or a couple of coldies at the My Fat Puku Licensed Cafe before your 4.15pm flight check-in.
You'll be back in Auckland by around 5.30pm - with Great Barrier Island still whispering in your ears!
Availability Request for the Weekend Warrior Hikers package...