What to expect
Great Barrier Island is a unique and fascinating part of New Zealand and as many people have already discovered, the Barrier has a way of getting under your skin... There is a definite 'feel' to the Barrier.

You can probably put this down to the fact that you're about to discover a small friendly community living totally 'Off the Grid' on New Zealand's 4th biggest land-mass... Over 70% of which is under Department of Conservation administration and this includes The Aotea Conservation Park, some 12,000 hectares of protected landscape and native forest.
All of this... perched on the edge of the Pacific Ocean beneath the most beautiful night sky you'll ever see!
Finding good information about Great Barrier Island, from a visitors point of view, can be difficult. Many potential 1st time visitors are unsure about what they are likely to discover. For some, the mystique that surrounds Great Barrier Island is exactly what draws them to our shores. For others the 'unknown' aspect of  the 'Barrier' is enough to make them choose an alternative destination for their holiday.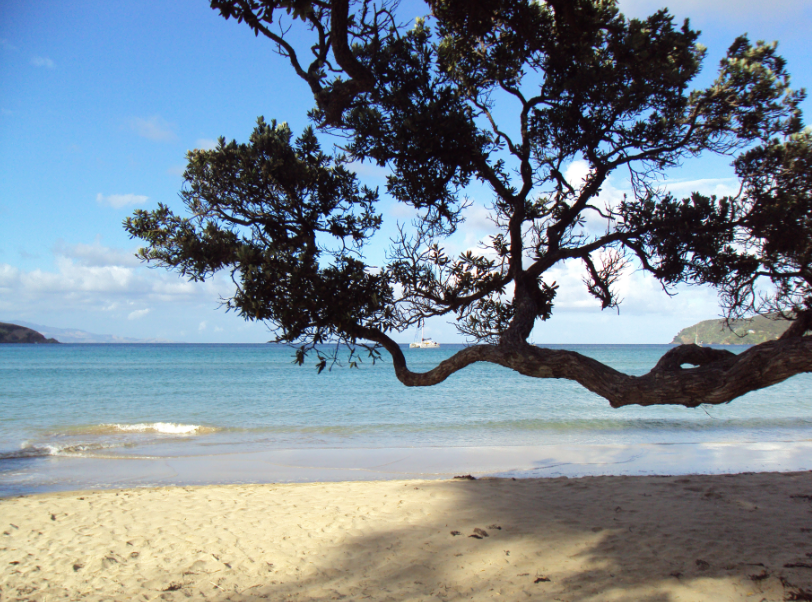 Like visitors before you, the first thing that you'll notice will be the beauty, the dramatic and rugged skyline, the mountains and bluffs running down to the beautiful clear ocean and stunning beaches.
The one main road gently winds through small 'villages', over mountain ranges, along coastal stretches and through picturesque farmland.
It will be' bigger' than you imagined, and friendlier too. The locals are a laid back bunch... there's always time for a chat, a 'hello' or at the very least, a friendly wave as they pass by.
You'll find that it's the things that we can't offer you that will make your experience all the more special and enjoyable.
There is no scheduled bus service on the island but you can easily hire a car, a scooter or a mountain bike, grab a taxi, or a common way of getting around is to just hitch a ride...
There is Broadband internet from Tryphena to Claris, and free Wi-Fi at the Claris Library and store. Apart from that you'll need to use your phone, but....
We can't offer you island wide cell phone coverage (yet), although you can get reception in parts of Tryphena, Medlands, Claris, Okupu, Okiwi and Port Fitzroy.
Of course, because we all harness our own energy from the Sun, Wind, and Generator, we can't really offer you a guaranteed 24-hour, island-wide electricity supply either, so you should bring a torch.
Oh, and just in case you were wondering about KFC, McDonalds, Malls, Supermarkets, Banks and that sort of thing... well, no.
Having said that, you can access everything you'll need at the local stores and most of them accept eftpos/credit card.
There are no streetlights and only a few footpaths but that's ok because we don't exactly have a rush hour either. In fact, we only have a permanent population of around 950 people so there's plenty of room for you, your friends and your family.

In a nutshell.... You're about to discover a part of New Zealand that happily forgot to get on the train to the future. In fact the last train to go through these parts was hauling Kauri logs down to Whangaparapara Harbour, about 65 years ago. 
It's a free and easy style of life here... No crime, no queues, no hurry, no worries.... just how New Zealand used to be.
What we lack in style and pizzazz, we more than make up for in good old, natural authenticity.
So C'mon.... Come On Over!