Two's Company - Love is in the air

Friday: You check in at Barrier Air, Auckland Domestic Terminal at 9.15am for your 10.00am departure. A beautiful 30-minute scenic flight across the Hauraki Gulf sees you landing at Claris Airfield around 10.30am.
You'll be met and shown to your rental car, which comes complete with a full fuel tank, unlimited kilometres and a fun map. Make your way down to your accommodation located in Mulberry Grove, Tryphena. Your cosy beachfront studio at Sunset Waterfront Lodge is just the place for a romantic getaway. Your own private deck or patio brings the fresh sea air and awe-inspiring sunsets right to your room. The rest of the day is yours to settle in and explore the nearby beaches, shops, cafes and bars etc. Join other guests and locals for dinner at the Currach Irish Pub or Tipi and Bobs Bistro & Bar.
Your studio features:
Kitchenette with gas stove and mini fridge
Ensuite - toilet, shower, vanity
Private deck or sheltered patio
Television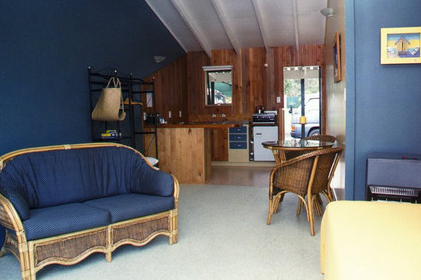 Outdoor furniture is provided for your relaxation and access to beautiful Mulberry Grove beach is straight across the lawn and through the Pohutukawas.
Saturday: After breakfast this morning you'll be picked up by Steve on 'Crazyhorse' to set off on your 'Trike-Athlon' adventure. You'll head north through Medlands and Claris to the Kaitoke hot springs. These natural hot springs are on the edge of the Kaitoke wetlands and are at the end of a 40-minute level bush walk that meanders through luscious nikau groves and over beautiful boardwalks and bridges. At a pre-arranged time Steve will pick you up back at the beginning of the walk. Then it's off to grab some lunch at the My Fat Puku Licensed Cafe. After lunch we head to the Kaitoke Creek for a romantic paddle down to the northern end of Kaitoke beach for a swim or beach walk. Once again, Steve will be waiting for your return and you'll be off on the cruise back to Sunset Lodge.
Sunday: Today is all yours. Take your hire car and go exploring. Check out the Shoal Bay Pottery, the local museum and the art gallery. Take a walk to the Mermaid Pool, the Windy Canyon or just lax out on the beach. Leave your car at the airport when you check in for your 5.00 pm departure.
Tariff:
This package includes 2 return flights, 3 day car hire, a Crazyhorse Trike Tour and 2 nights at Sunset Waterfront Lodge.
$640 per person.