The 'Heavens Above - Olive Grove Beach House' package
This exciting opportunity is perfect for couples looking for something special in a romantic getaway and includes:
2 Premium Grade round trip flights from Auckland Airport or North Shore Airfield
3 days quality 4wd car rental
2 nights accommodation at beautiful Olive Grove Beach House
1 'Look Up & Get Lost' Dark Sky Experience
Olive Grove Beach House
This modern and unique one bedroom home is ideal for couples looking for a private, romantic getaway. There are two hot showers (one inside, one outside), a well-equipped open plan kitchen and a cosy living & dining area with a pot belly fireplace to keep you warm and toasty in winter.  The entire living area opens right out on both sides to generous decking, bringing the outdoors in with seamless flow between. Wifi is available.
Magnificent Medlands Beach is just a three-minute stroll away, where you can relax and swim throughout the day, and by night....
Explore the incredible night sky above with our local Dark Sky Tour operators... 'Good Heavens'
Your Flights
Your flights are Fully Flexible Premium Grade... totally protected and fully refundable or transferable up to 24 hrs before travel.
The scenic morning flight across the Hauraki Gulf takes a mere 35 minutes... leaving you plenty of time to explore the island before checking in at Olive Grove Beach House at 2pm.
Your Rental Car
Your quality 4wd hire car is available for pick-up and drop-off at the Claris airfield.
You'll be met on arrival and shown to your car. It comes with unlimited kms and a full fuel tank that you'll re-fill at the end of the hire period.
Your Look Up & Get Lost - Dark Sky Experience
Wander along to the Medlands Beach viewing location where the girls from Good Heavens will be waiting. Sit back in a comfy moon chair, hear the waves lap against the shore, look up and see the thousands of stars visible in our amazing night sky. The 'Good Heavens team will guide you through the heavens above. Look through the telescope to get up close and personal with special stars and deep sky objects. Have constellations drawn in the sky while you enjoy a cup of hot chocolate or herbal tea. Stargazing does not get more enjoyable than this! Take a close look at the moon, or gaze at the Milky Way if the moon is hiding.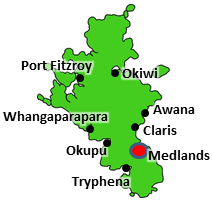 Gallery: (click to enlarge...)
Tariff:
2 Premium Grade round trip flights from Auckland Airport or North Shore Airfield
3 days quality 4wd car rental
2 nights accommodation at beautiful Olive Grove Beach House + cleaning fee
1 'Look Up & Get Lost' Dark Sky Experience