Discover Aotea - One Day, All Inclusive Island Excursions
Go Great Barrier Island Day Tours offer the 1st time visitor a great opportunity to discover the best of the Barrier - all in one day!
To begin your island discovery excursion you'll fly direct from Auckland Airport on the morning flight. Your tour will include all of the Barriers' highlights but you'll also get to discover some of it's lesser known secrets, before you depart Great Barrier Island for Auckland on the 5.pm flight.
There are two tour packages available. Take a look at the itineraries and feel free to contact us for more information.
Option 1 - Great Barrier Island Explorer Tour Package
 $330 per person - minimum 4
This package is ideal for newcomers to Great Barrier Island or those wishing to take a step back in time and enjoy New Zealand as it used to be. With amazing scenery and activities, this day tour package provides a true taste of Great Barrier Island!
Tour package includes:
Return airfares from Auckland Airport
Guided tour around Great Barrier Island
Tour map & brochures
A very informative commentary
Plenty of great photo opportunities
Complimentary tea/coffee and cake etc.
Optional extras include:
Breakfast at My Fat Puku Cafe
($25 per person)
Picnic lunch at Awana Beach Estuary
($25 per person)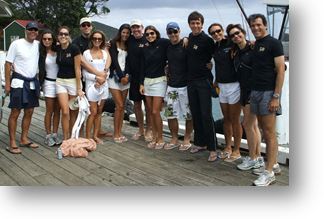 View the full itinerary here: Great Barrier Island Explorer Tour Package
Would you like to check availability of this tour package?
---
Option 2 - Great Barrier Island Highlights & Harbour Tour Package

$485 per person - minimum 4
This package is ideal for those wanting to explore Great Barrier Island's beauty by air, land and sea. You're about to discover why they say Great Barrier Island is a World of it's Own!
Tour package includes:
Return airfares from Auckland Airport
Guided tour around Gt Barrier Island
Harbour Cruise with on-board lunch
Tour map & brochures
Very informative commentaries
Plenty of great photo opportunities
Optional extras include:
Breakfast at My Fat Puku Cafe
($25 per person)