Star Treks invite you to experience the best of Aotea, Great Barrier Island's pristine forests, beaches and expansive ocean views.
Join us at Star Treks for a memorable adventure on Aotea, Great Barrier Island. Our local guides will lead you on an intimate journey on one of our thoughtfully crafted daylight or twilight treks.
Our guided day treks can include visits to historic Kauri timber milling and whaling station sites, summiting our highest point, Hirakimata and enjoying a well deserved soak in natural geo-thermal hot springs.
Come along on one of our twilight tours though and you'll encounter the beauty of our spectacular, protected starry night skies and delight in the sounds of nocturnal creatures awakening.
Family owned and operated, our local guides share their stories of the people, land, forest and sea.
Star Treks was created by husband and wife team, Benny and Eve to promote the life they love; walking in the forest, meeting new people and sharing this magical island. As well as offering guided day treks, they offer walks with a difference. As night falls trekkers experience native bush and this Dark Sky Sanctuary in a remote setting. Your knowledgeable guide will provide a fun and fact filled commentary about the island's flora and fauna. You'll be entertained by our island's past and present, characters and stories and provided with the opportunity to engage with enthusiastic locals happily living off grid on this remote island paradise.
Whangaparapara Historic Day Trek
Discover the site of the Kauri Timber Company sawmill (1909 -14) The first part of this trek takes you along a tramline track, which was in operation after the sawmill had closed. The tramline was used to extract timber from local forests to be taken to Auckland to be milled. After a catered lunch, the second part of the trek takes you on to the remains of the last-established whaling station at Whangaparapara. Two decades after it's closure in 1962, local characters Tony Litherland and his wife Carol came to live aboard a homebuilt houseboat 'Argo' a 50ft ocean going steel catamaran, moored off the site of the whaling station. They enjoy meeting visitors; over a cup of tea on board, hear some of their intriguing tales on life and history in the area. Click here for details...
Kaitoke Hot Springs Twilight Trek
The path to the Kaitoke hot springs follows an ancient shoreline traversing the Kaitoke wetlands and regenerating kānuka forest.  With-in forty-five minutes, the track reaches the natural hot springs, dammed at a fork in Kaitoke Creek and surrounded by umbrella fern, shaded by pohutukawa trees. After an optional relaxing soak in natural hot geo-thermal springs, enjoy your catered dinner as the sun sets. If the skies are clear, your guide will then take you on a five minute steep climb to an expansive view of the stars over the Kaitoke wetlands. Search the skies with your night adjusted eyes and our giant 20×80 night sky viewing binoculars. Your guide, an enthusiastic Dark Sky Ambassador, will share astronomical facts about the moon as it rises, current constellations, planets, and beyond.  Click here for details...
Hirakimata to Hot Springs Day Trek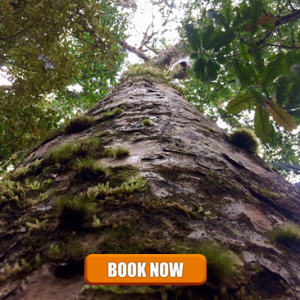 Trek to our highest peak Hirakimata (Mt Hobson) and hike out through our natural Hot Springs. The trek begins at the spectacular Windy Canyon and follows the main ridge offering constantly changing vistas in every direction before climbing steeply to the summit... Hirakimata (Mt Hobson). After lunch at the island's peak, with 360° views, hike past the Heale Hut along the Peach Tree Track, on to the Tramline Track down to the hot springs. You may like to have a well deserved soak in the rejuvenating geo-thermal waters of Kaitoke Hot Springs. From here the path follows an ancient shoreline traversing the Kaitoke wetlands and regenerating kānuka forest. The Hirakimata to Hot Springs trek is a combination of easy walking tracks, boardwalks, steep climbs, stairways and bridges.          Click here for details...