The Hikers Delight package offers the perfect mix of Premium Grade return flights, your own rental vehicle allowing you the freedom to explore the island after each day's hike... and a convenient track transfer system that sees your rental vehicle waiting for you right at the end of the trail.
What about accommodation?
Don't worry... We'll find the perfect accommodation option to suit your group/family's preferences & requirements - and conveniently add it to your Hikers Delight package.
Would you prefer to stay in a cute seaside cabin or a beautiful elevated self-contained home?
Prefer to be in a lodge? a bed and breakfast option? How about a house right on the beach?
You'll be able to let us know your preferences further down the page 🙂
For now though - let's take a look at your hiking adventure itinerary.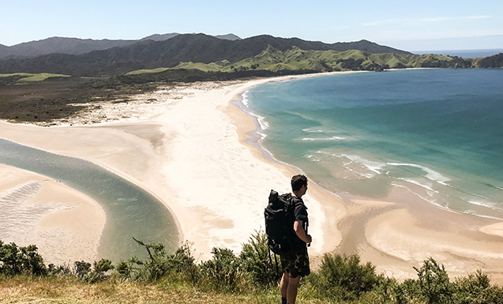 Day One: Okiwi - Harataonga Coastal Walk
Your group checks in at 'Barrier Air' Auckland Domestic Terminal for your morning flight to Great Barrier Island. A beautiful 30-minute scenic flight across the Hauraki Gulf sees you landing at Claris Airport where you'll be met and signed up for your rental car. Grab some driving & hiking maps from the visitor information kiosk then head off to Harataonga Beach. Your driver will meet you there and transfer you to Okiwi to begin the beautiful Okiwi to Harataonga Coastal Walk.
This easy walk does not have the steep grades of many of the island's other tracks. It winds through regenerating forest and offers stunning elevated views of Rakitu Island. From Okiwi (Aotea Road), the track heads up to a fantastic viewpoint above the Okiwi estuary outlet before following a coastline of magnificent views. The track ends at the Harataonga campground where your car will be waiting for you 🙂
Be sure to check out beautiful Harataonga beach.
Allow 4.5 hours total walking time.
Day Two: Over The Top - Windy Canyon ~ Mt Hobson ~ Kaitoke Hot Springs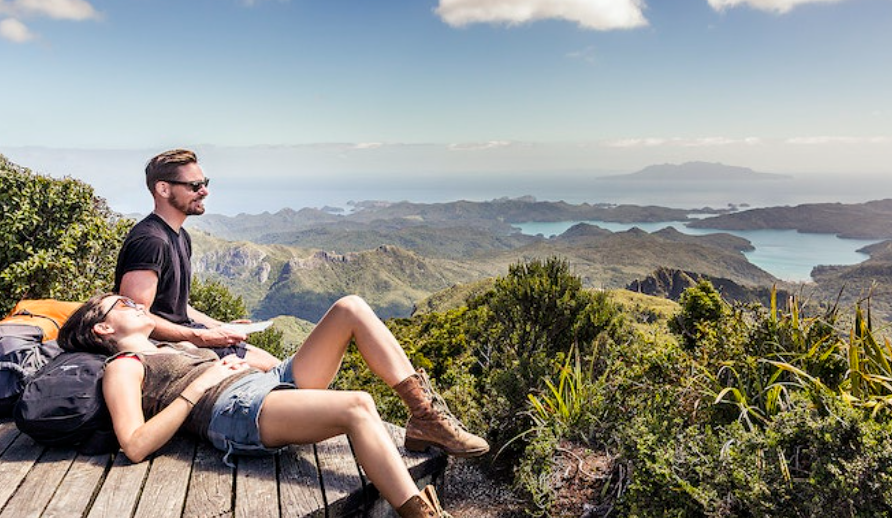 This morning your driver will meet you at the hot springs car park (where you'll leave your rental car) and transfer your group through the island to the beginning of today's hike at the spectacular Windy Canyon. Approximately 1.5 hours beyond this point sits the summit of Hirakimata (Mount Hobson), the island's highest peak at 621 metres. After lunch on the summit, head down to the Kaitoke hot springs for a well-earned soak in the totally natural thermal pools. Allow 35 minutes level walking, back to your rental car at the hot springs car park.
The total track time for this hike, including 20 minutes for lunch and 20 minutes for the hot springs is between 5 and 6 hours.
Day Three: At Your Leisure
You'll be able to explore the rest of the island at your leisure today. Check out the Mermaid Pool, Medlands beach, and Tryphena. The local museum at Claris is well worth a look, as is the community art gallery, and Shoal Bay Pottery in Tryphena.
Leave your car at Claris Airport when you check-in for your afternoon departure with 'Barrier Air' back to Auckland.
Tariff:
This package includes:
Premium Grade return flights
3 days quality car rental
2 track transfers
$520 per person - for 2 people
$443 per person - for 4 people
$425 per person - for 6 people
For 8 or more people - please enquire below
Add your accommodation by filling out the availability request below.