All Aboard! Great Barrier Island's only dedicated coastal sightseeing company, 'Hooked On Barrier' invites you to join them aboard their 11.2 metre Marlborough 38 design vessel 'Sundancer.' Specially modified and refurbished for passenger comfort and optimum cruising enjoyment, Sundancer comfortably accommodates groups of up to 20 passengers on their sightseeing excursions.For passenger convenience, there is an on-board toilet, BBQ, oven & stove and comfortable seating for up to 8 people inside the main cabin. The spacious and sheltered aft-deck offers additional seating for 12, and guests are welcome to relax in the sun on the fore-deck.
Your Skipper, Chris Ollivier is a fully qualified NZ Coastal Master and dive supervisor. Chris has 30 years international sea-going experience, including stints at skippering 'The Spirit of New Zealand' and 'The Spirit of Adventure' -  so you'll be in very safe hands!
The West Coast Sightseeing Cruise with On-Board Lunch
If an exhilarating cruise along Great Barrier Islands most beautiful stretch of coastline, invigorating fresh sea air, dolphin encounters and stunning scenery sounds appealing - then this is the cruise for you.
You'll really enjoy this 5 to 5.5 hour boat tour. It incorporates sightseeing in the Whangaparapara Harbour before heading up through the amazing Broken Islands and into the Man O' War Passage entrance to Port Fitzroy Harbour.
The cruise includes a delicious on-board lunch prepared and served in a sheltered bay prior to your return cruise to Whangaparapara.
Departs 9am from Whangaparapara Wharf

Delicious lunch served on board - please advise special dietary requirements.

$221.00 per adult - $111.00 per child (5 to 15)


Subject to suitable weather conditions

Bring swimming suits, towels, sunscreen, jacket, camera 

Book below
Optional Extra
While cruising the calmer waters of Port FitzRoy Harbour you can choose to include a guided tour of Glenfern Sanctuary. Hear the birdsong and experience some of Aotea's most endangered species on our 2km loop track through pristine native bush.
$32 per person - (Minimum 4 people required for Glenfern tour to go ahead)
Please note: Minimum 2 passengers to make a booking - Minimum 4 passengers for the cruise to commence.
The Port FitzRoy Harbour Explorer Cruise with On-Board Lunch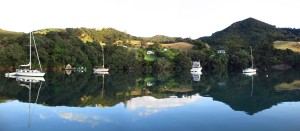 If it's a little too windy out on the coast you can still enjoy a great cruise within the beautifully sheltered Port FitzRoy Harbour. Make a day of it and incorporate a visit to 'Glenfern Sanctuary' - the Barrier's amazing bird lovers wonderland. If the tide's right, we can also visit 'Barrier Gold' for a fascinating insight to Manuka and Kanuka oil distillation.
We'll find a nice sheltered spot for your on-board lunch and explore the far reaches of this spectacular harbour paradise.
Departs by arrangement from Port FitzRoy Wharf or Glenfern Sanctuary at 9am

Delicious lunch served on board - please advise special dietary requirements.

$221.00 per adult - $111.00 per child (5 to 15)


Minimum 4 adults, Maximum 12 persons

Subject to suitable weather conditions

Bring swimming suits, towels, sunscreen, jacket, camera