Pigeons Lodge Garden Studios
Be prepared for the delightful whirr of wood pigeons' wings as they fly past you just a few feet from where you are sitting and marvel as they perform their acrobatic dives in the air just above you. Walk through cool bush out to the headland to watch the sun go down, or stroll down our path to the water's edge for a lazy swim.
Pigeons Lodge offer two attached units, each with its own double room, bathroom and kitchen with a single gas burner. The units share a deck and a gas barbeque. Both units have stunning views through the bush and over the bay. A great affordable option for 2 couples travelling together.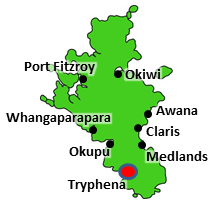 Tariff:
$125 per night - per unit.