Great Barrier Island Events Guide
There's always something happening on the Barrier. From market days and golf tournaments to fishing comp's and polar plunges...
We've put together a list of some of the action that's planned for 2018 and 2019...
Take a look at what's coming up.
Aotea FM presents High Rotation Live ~ Saturday 4th January, 7 pm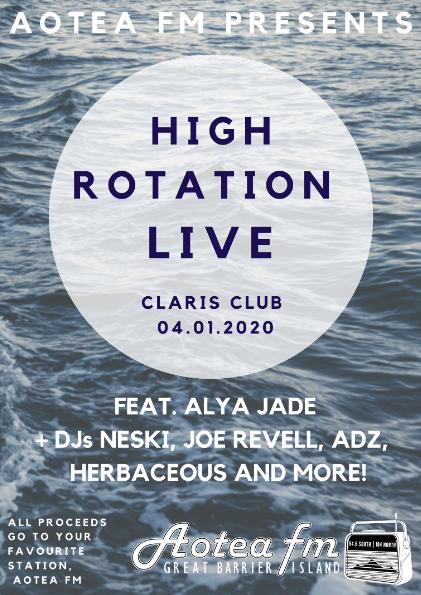 Featuring Alya Jade and a selection of local DJs in a fundraiser for your favourite radio station, Aotea FM
Venue: Claris Sorts Club.
Licensed Bar. Food available.
New Years Picnic 2nd January 2020

When: Wed 2 Jan 2019, 10:00am–3:30pm
Where:Claris Sports Club, Whangaparapara Road, Great Barrier Island.
Family day out and fundraiser for Aotea Family Support Group. Showcasing the local community, music & culture that exists out on Great Barrier Island.
Huge bouncy castle, food stalls, art, heritage, water slide, face-painting, nail drive, kids races, tug of war, gumboot throw, charity auction, huge raffle drawn at 1:30pm, live music, natural therapies and loads more.
Get a picnic together and come along.
Please note this is an alcohol-free, smoke-free and pet free family event.