Hebe Haven is an iconic Barrier bach in Mulberry Grove, Tryphena.  It is situated by a stream and just a few minutes walk from a lovely sandy beach. It has a double bedroom with a television, a full kitchen including a fridge freezer, an inside bathroom with shower and composting toilet.
All essential facilities are at hand with a nearby superette, takeaways, liquor wholesale, fish bait/ice supplies, petrol, diesel, laundry, and kayak hire.
Hebe Haven is located about 25 minutes from Claris and the airfield, and 5 minutes from the wharf.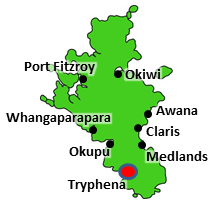 Gallery: (click to enlarge...)
Tariff:
$150 per night per couple