On the Beach - The Boathouse

The Boathouse is a self-contained 2-bedroom cottage just across the road from Tryphena's most popular West Coast beach, Gooseberry Flat.
This cosy cottage is fully equipped with an oven, a fridge, a BBQ and outdoor furniture, includes linen, and there's a fireplace with wood supplied in case it gets cold.
Your Itinerary:
Day One: You check in at Auckland Domestic Terminal for your mid-morning departure. A beautiful scenic flight across the Hauraki Gulf sees you landing at Claris Airfield around 30-minutes later.
You'll be met and shown to your rental car, which comes complete with a full fuel tank, unlimited kilometres and a fun map. Make your way down to the Boathouse located at Gooseberry Flat, Tryphena. Your cosy beachfront hideaway is just the place for a romantic retreat. The private deck is nestled amongst ancient Pohutukawa trees and the beach awaits at the end of your own private path.
The cozy A-frame sleeps 2 to 4 people and is fully equipped for your holiday stay. It has two bedrooms with queen size beds upstairs.
The rest of the day is yours to settle in and explore the nearby beaches, shops and bars etc. Join other guests and locals for dinner at the Currach Irish Pub or Tipi and Bobs Bistro & Bar where the atmosphere is warm, the food hot and the beverages cold.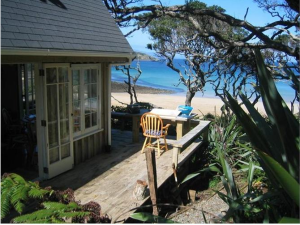 Day Two: Time to explore the island. No visit to Great Barrier Island is complete without enjoying the easy 40 minute walk to the Kaitoke hot springs... Have a soak in the natural thermal pools before heading out to Gt Barrier Lodge for lunch on the deck overlooking the beautiful Whangaparapara Harbour.... keep a look out for dolphins in the bay!
Continue north enjoying the stunning views of Palmers beach and stretch the legs along Awana beach and estuary. Then it's off to climb the 100 steps that lead to the spectacular Windy Canyon...
Continue on through Okiwi to the ever-beautiful Port FitzRoy harbour for an icecream and optional waterfall walk.
Pop into Motu Cafe at Okiwi on your way back down the island..... The coffee is always good, as are the freshly made tasty treats.
Day Three: Coastal cruise? Fishing charter? River kayak? Just give us a call to arrange your activities. Or, check out the Shoal Bay Pottery, visit Peter Edmonds at the Black Cow, his wood turning/carving gallery and take a look at the local art gallery and museum in Claris. Take a walk to the Mermaid Pool or just relax on the beach.
Leave your car at the airport when you check in at 4.30 for your 5.00 pm departure back to Auckland Airports domestic terminal.
Enquire about our Crazy 3rd night free Winter Specials!
Tariff:
This package includes return airfares, 3 days car hire and 2 nights accommodation at The Boathouse.
2 people - $583 each
4 people - $458 each