The Boathouse, Tryphena

The Boathouse is a self-contained 2-bedroom cottage just across the road from Tryphena's most popular West Coast beach, Gooseberry Flat. This cosy cottage is fully equipped with an oven, a fridge, a BBQ and outdoor furniture, includes linen, and there's a fireplace with wood supplied in case it is cold.
With the beautiful white sandy beach at your doorstep you can relax on the deck with a good book and enjoy the stunning sea views and sunsets through the ancient Pohutukawa trees, or take a short stroll along the beach to the Stonewall Village, Pa Beach Café and Currach Irish Pub.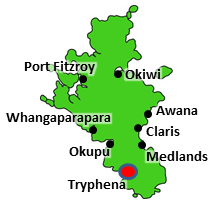 The Boathouse is a perfect base from which to explore the beauty of the island, and is about 20 minutes from the airfield and Claris Centre.
See our All inclusive Boathouse Package here...
Gallery: (click to enlarge...)
Tariff:
Temporarily unavailable