The Whalers Cottage ~ Back to Nature

The Whalers Cottage - Back to Nature holiday package includes:
Fully Flexible return flights from Auckland Airport or North Shore Airfield
3 days quality 4wd car rental
2 nights accommodation at The Whalers Cottage
How would you like to escape to a stylish, beautifully presented holiday home located on a very private and elevated position above historical Whangaparapara Harbour?
Situated in close proximity to the Aotea Conservation Park and associated hiking tracks and trails, the Whalers Cottage is a perfect option for those wanting to take advantage of the great outdoors... fishing, swimming, hiking and exploring... And just as perfect for those who'd prefer to kick back and relax in a peaceful & private hideaway.
Within  20 minutes drive from Claris Airport, this highly specified house comes complete with a reliable off grid electricity system, a quality bathroom featuring a 'luxury bath with a view,' a dishwasher, flat screen TV and free wifi.
The Whalers Cottage enjoys serene harbour views from North Facing decks and there's plenty of dry firewood to keep you cosy on those cooler nights.
You'll find everything you need for a relaxing and rejuvenating stay at the Whalers Cottage...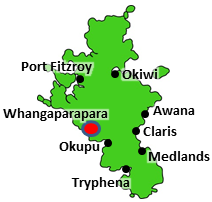 Gallery: (click to enlarge...)
Itinerary ideas
This popular all-inclusive holiday package is available for couples looking for a romantic escape... or for friends & families looking for a special island getaway experience.
Here's some itinerary ideas..
Day One: You check in at Auckland Domestic Terminal or North Shore Airfield for your mid-morning departure.
A beautiful scenic flight across the Hauraki Gulf sees you landing at Claris Airport around 30-minutes later.
You'll be met on arrival and shown to your rental car, which comes complete with a full fuel tank, unlimited kilometres and a fun map. Be sure to visit the Information Centre located inside the airport terminal... you'll find great driving maps, info sheets, brochures and guides. 
There's good 'coffee to go' available at 'Scoff n' Tackle' and you can top up on any supplies you might need in Claris, before heading out to your amazing accommodation at Whangaparapara. 
The rest of the day is yours to settle in and explore the local area...
There's some great short bush walks right at your doorstep... Explore around to the old Whaling Station or take a dip in the crystal clear waters at Kauri Falls.
Shiny Paua Stand-up Paddle Boards are within easy walking distance of The Whalers Cottage. You can go for a harbour paddle or grab one of their fishing kayaks and head out to grab tonight's dinner!
Alternatively join other guests and locals for dinner and refreshments at Great Barrier Lodge just along the road, overlooking the harbour.
Day Two: Time to explore the island. No visit to Great Barrier Island is complete without enjoying the easy 40 minute walk to the Kaitoke hot springs... Have a soak in the natural thermal pools before heading off to explore the rest of the island.
Head north for some stunning Pacific Ocean views, stretch your legs along Awana beach before continuing on to the spectacular Windy Canyon... Don't forget to check-out the Community Art Gallery, the Milk, Honey & Grain Museum and enjoy lunch at 'My Fat Puku Licensed Cafe' at Claris.
Day Three: Sundancer Coastal Cruises & Sightseeing Tours depart from the Whangaparapara Wharf  just a few minutes from your accommodation. They provide a great opportunity to check out the Barriers beautiful coastline. You'll be welcome to take a swim or snorkel while your delicious on-board lunch is being prepared.
Leave your car at the airport when you check in for your 5.00 pm departure back to Auckland.
Just give us a call to arrange your activities... Dark Sky Sanctuary Experiences, Island Tours, Track Transfers or fishing charters.
We can make the arrangements and add any of the above to your package.
Tariff:
June July and August:
2 people - $560 each
3 people - $456 each
4 people - $405 each
Rest of Year:
2 people - $585 each
3 people - $473 each
4 people - $417 each