Back to Nature Cabins feature two natural timber 10m2 cabins nestled on a clearing surrounded by native trees, birdsong and a babbling stream.  The location is only a short walk to picturesque Blind Bay where dolphins frequently play and fish abound.  The crystal clear waters are perfect for swimming and the bay is a lovely for strolls and beach combing.
Cabin 1 sleeps up to 3 guests with a futon queen bed on the lower level and a mattress on the low roofed loft.  Cabin 2 has a single bed and single futon (chair/bed) on the lower level, with capacity for two more guests above on the low roofed loft.  A utility cabin holds a small fridge and other supplies.
Cooking and dining are al fresco under a verandah enclosed by bistro blinds.  Showering is also al fresco but private and (mostly) warm/hot.  The composting toilet is a few steps from the cabins.
The cabins are not "luxury" accommodation so please be ready for off grid, natural living at its most simple.  The very basic power system operates lights and can charge phones and laptops but will easily run down if overused.  Staying at the cabins gives a great lesson in sustainability!
Back to Nature Cabins are 10 minutes drive from Claris airport and 30 minutes from the Tryphena ferry.  Te Ahumata (white cliffs) track is nearby (15 minutes walking distance) and the start of the hot pools track can be reached by car in around 10 minutes.
Kayaks can be hired by arrangement.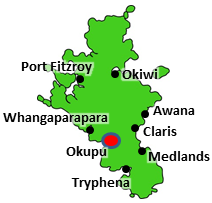 Gallery: (click to enlarge...)
Tariff:
$150 for 2 people - $50 per extra person
$10 extra per person for sheets/towels