In a sunny clearing in 1.5 acres of bush above Whangaparapara harbour, this private off-grid cottage has been extensively upgraded with exceptional all-weather comfort in mind. Bordering the Aotea Conservation Park, Whangaparapara is a great place to enjoy the sense of how the our natural environment once was, located 7km over the winding hill from Claris airport.
Looking across the parkland and sculptured volcanic peaks of Mt Hobson, the living area has two sets of north-facing french doors collecting the sun. The doors open to a sheltered outdoor area, where guests can carry out the directors chairs and a coffee or a coldie to relax year round.
In warm weather, windows are protected by mozzie mesh and can be left open, which brings the sound of waves lapping and birds calling in with the cool breeze. At night, add marvelling at the brightness in the Barrier's 'Dark Sky' and perhaps you too will experience the island on your horizon as a world apart.
The Space
Downstairs is one main room combining kitchen, dining and living around a central fireplace. The bathroom with shower, toilet and handbasin is at the foot of stairs leading up to one loft bedroom, tucked under a low attic ceilings.
The bedroom has a queen bed and private outlook to Mt Hobson. Best suited to a couple, a second queen bed behind a small screen is provided for children or extras if needed. In the living area, the comfortable couch also can be folded out for up to two people. All bed linen and towels are provided.
The off-grid kitchen is equipped with all essentials including gas fridge/freezer, gas oven/hob, pots, pans, crockery, cutlery and stovetop or hand-press coffee makers. Standard plug in appliances are substituted with old school stove-top toaster and whistling kettle.
A small solar power system supplies the lighting and can charge phones, laptops or other battery devices but will be damaged by most plug-in appliances, eg hair dryers or rice cookers. Please leave electrical appliances like these at home.
There is some cellphone reception from the property on Vodafone/2Degrees, but no Telecom network reception.
For those interested, sustainable building features include a 'Passivehaus' inspired approach to heating. The sun's warmth is stored in the concrete floor then retained inside by all-round draft barriers, double glazing, and insulation. At the other end of environmental consciousness, the septic system is a living worm system, delivering the cleanest possible output to land and sea.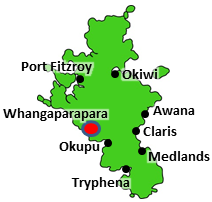 Gallery: (click to enlarge...)
Tariff:
Introductory Offer:
$220 per night for two guests - two nights minimum stay.
$40 per extra guest - maximum two extra adults
Children under twelve sharing one extra bed are charged as one adult.
No charge for children under two using a cot provided by guests.
* A one off open up, welcome, clean and linen fee of $70 applies to all bookings.