Hawaiki Cottage ~ Fantasy Island Package
The Hawaiki Cottage - Fantasy Island holiday package includes:
Fully Flexible return flights from Auckland Airport or North Shore Airfield
3 days quality 4wd car rental
2 nights accommodation at beautiful Hawaiki Cottage
The Cottage
Hawaiki Cottage is a sunny one-bedroom unit with elevated cliff-top sea views across Tryphena Harbour.
Nestled quietly amongst 13 acres of bush and landscaped resort-like gardens, the cottage is self-contained with it's own ensuite and is quite separate from the main house and other buildings.
The kitchen has a fridge/freezer and a gas hob and oven, plus there is a BBQ located in your own private courtyard. There is a good selection of restaurants and bars within walking distance if you choose to eat out.
Cooked breakfasts are also available on request most days at reasonable prices (a menu is available in the cottage).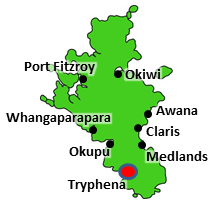 The Space
Fantasy Island offers extensive landscaped gardens with plenty of private spaces to relax and soak up the views.
The property features native bush clad hills, lush sub tropical gardens, elevated sunny outlooks & private shaded hideaways.
The driveway to the cottage is sealed and easily accessible by car or foot, and there is plenty of room to park.
The entire property is a quiet retreat for adults only... No childen sorry.
Your hosts Adam and Peter are nearby to advise and assist as required. You may choose to explore Great Barrier Island or simply watch time slip by as you relax and unwind at this beautiful, tranquil paradise.
Your Flights
Your flights are Fully Flexible Premium Grade... totally protected and fully refundable or transferable up to 24 hrs before travel.
The scenic morning flight across the Hauraki Gulf takes a mere 35 minutes... leaving you plenty of time to explore the island before checking in at Hawaiki Cottage at 3.pm.
Your Rental Car
Your quality 4wd hire car is available for pick-up and drop-off at the Claris airfield.
We'll meet you on arrival and escort you to your car. It comes with unlimited kms and a full fuel tank that you'll re-fill at the end of the hire period.
Gallery: (click to enlarge...)
Activity Ideas
Great Barrier Island is famous for it's amazing night skies... in fact we're one of only four Dark Sky Sanctuaries in the world.
Our on island Dark Sky ambassadors are fully trained to guide you through the heavens.
Sundancer Sightseeing Tours provide an opportunity to see the Barrier from a whole different perspective.
Join them for the West Coast Cruise with On-board Lunch... You won't be disappointed !
Just give us a call to arrange your activities... Dark Sky Sanctuary Experiences, Island Tours, Track Transfers or Fishing Charters.
We can make the arrangements and add them to your package.
.
Tariff:
2 Fully Flexible return flights from Auckland Airport or North Shore Airfield
3 days quality 4wd car rental
2 nights accommodation at beautiful Hawaiki Cottage
$628 per person