Awana House
Combine a sun-drenched, commanding location with modern clean design, add luxurious comfort & functional flexibility... the result?  Welcome to Awana House.
Set high above Awana Beach on Great Barrier Islands beautiful east coast, Awana House features high ceilings, natural timber floors, and spacious living & dining areas along with stunning views from every outlook.
There are two en suite bedrooms, both with super king beds and private sitting areas with shaded terraces.
Both the bedrooms and the large living room have wood burning fires with hearths and chimneys constructed from locally sourced stone. All of the wooden interior furniture is created by local artist Peter Edmonds, using mature native timbers. The soft furnishings feature New Zealand wools and fabrics. The beds offer high count cotton linen, and anti-allergy pillows and mattresses.
Enormous glass doors lead out on to a generous deck area. Classic outdoor furniture, a stone BBQ & fireplace and beautifully presented gardens offer perfect outdoor holiday living.
Awana Beach is a few minutes walk away and the property is within 10 minutes drive from Claris Airport.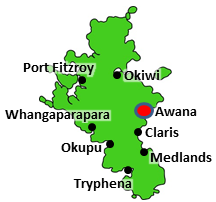 Gallery: (click to enlarge…)
Tariff:
Available from $750 per night off peak.
Please enquire for seasonal rates and specials.
Children are welcome.