Authentic Great Barrier Island accommodation doesn't come any better than this!
Allom Bay Cabin offers the adventerous couple a unique opportunity to experience a true taste of Barrier life.
The cabin is located on private acreage on the waters edge at Allom Bay in Okupu Harbour. A lazy stream runs behind the cabin and a large flat grassy area in the front provides a sunny relaxing haven where guests can fish and swim right off the front lawn.
The cabin features a cosy double bed, a gas oven & hob and fridge.
The bathroom and toilet are in separate buildings to the rear and there's a nice big BBQ and outdoor dining area for those balmy island evenings.
You won't be 'plugging in' at Allom Bay but you'll be more than entertained by the sheer beauty of the nature that surrounds you... Lush bush, private beach, clear water, unbelievable night skies and the freshest of air...
Getting to Allom Bay Cabin is an adventure in itself. We let the owner know when you'll arrive on island and he'll pick you up in his boat from the beach at Okupu or, for a small charge, direct from the ferry when it arrives at Tryphena.
Whenever you want to go explore the island he'll run you across the bay to your hire car.
In other words - you'll have your very own private water taxi!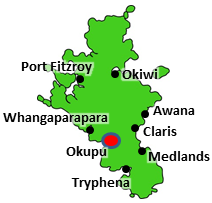 Gallery: (Click to enlarge...)
Tariff:
$200 per night - per couple (includes linen)
*3 night minimum stay required.